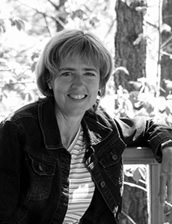 Debra Walker
B.A.
Founder
Debra Walker is an ambitious problem solver with over 30 years experience in both business and non-profit organizations. Her life-coaching skills are backed with several years experience leading seminars and small groups, directing youth and women's groups, and working in management, sales, and marketing. As a mother who has just recently launched her son and daughter into adulthood, her passion is to be a courageous community response to improve the social and emotionallives of our youth.
---
Carolyn Sandra
B.A., M.A.
Strategic Planning & Development
Carolyn is an innovator and creative visionary with a passion for developing leadership resources that promote personal and social change. She began her career as a licensed counsellor working with parents and teenage girls. Her passion lead her to partner with CFY in 2004 to create workshops and conferences focused on the issues facing teenage girls and helping parents to support and navigate their daughters through an often toxic and confusing culture. She is a co-author of the SCREAM curriculum and the mother of three remarkable daughters.
---
Gary Brucker
B.A., B.Ed., M.SC.
Senior Program Director
For over 20 years Gary, a dynamic speaker and educator, has been involved in providing innovative and life-changing educational programs to children, youth and adults. As a trained Love and Logic Facilitator, he has a passion for helping people get more tools for their life "tool boxes". Gary oversees the implementation of CFY programs and adult conferences. Gary lives in Kelowna, British Columbia, Canada with his wife, three girls and dog. He wants to help youth and adults to SCREAM their life.
---
Chantelle Dahl
B.A., Practical Nursing Dipl.
Voices Program Director
Mentorship played a large role in Chantelle's teenage years and led to her journey with Courage for Youth. Since joining the CFY team in 2005, she's partnered with like-minded organizations to gain experience as an educator and advocate for youth and their families. Chantelle utilizes the power of connection, empathy and playfulness to equip youth with the skills required to grow as healthy individuals. When not with CFY, Chantelle loves any chance to salsa dance and explore the beautiful Okanagan with friends and family.
---
Carin Benson
SCREAM Program Director
"Our most Valued treasure is our people, especially our youth" ~ Nelson Mandela. This quote resonates so true for Carin who, for over 20 years has been passionate about investing in and mentoring our youth generation. She brings an array of experience in program directing, development and counseling in Alberta and BC, from working in sectors such as mental health support facilities, Youth Director, Camp program directing to development of leadership programs. Carin has been with Courage For Youth since 2015 and is loving every minute of it. She lives in Kelowna BC, with her husband, 4 crazy but amazing children and 2 fur babies.
---
---
Team Alumni
---
---
Tracy Cunningham
B.A., B.Ed
SCREAM Facilitator
Motivated by her passion for teaching and her love of working with kids Tracy joined Courage For Youth as a facilitator for the SCREAM program in the fall of 2017. She is inspired daily by the talented colleagues and students she works with. She loves living in Kelowna with her three remarkable kids enjoying all aspects of the Okanagan lifestyle.
Nathan Hayward
SCREAM and Voices Facilitator
Nathan is a young man who was born and raised right here in the Okanagan! He has been involved in youth work for over 6 years and desires to make a greater impact in the lives of the people he shares his home town with. Being a recent grad from the Counselling Foundations program at Summit Pacific College, Nathan is excited to live alongside the youth of Kelowna and guide them to healthier living through the Scream and Voices programs and by simply building relationships with these students! Nathan spends his time working as a community youth worker at Central Services and Programs when he's not with Courage for Youth.
Michael Montagnon
B.A.
Facilitator
Michael has always been passionate about working with children and youth of all ages. Currently Michael is channeling this passion into his work with several youth-centered organizations in the Okanagan, and is proud to be a part of Courage For Youth's Voices and SCREAM programs. Michael has a BA in psychology from UVIC, and has recently begun a Special Education MEd program through VIU. Armed with endless energy and exuberance, Michael is always ready to get into the dirt to play and explore, and is equally enthusiastic about helping young people prepare for the challenges of life.
---
Serena Charleton
B.A.
Voices Facilitator
Serena has been involved with Courage For Youth since moving to the Okanagan in 2010. Driven by past experiences with relational aggression, Serena is dedicated to creating programs that will help educate youth on having and maintaining healthy relationships. Serena is passionate about mentoring and uses her experiences to help guide young girls through the trials of pre-adolescence and aid them in becoming wise and strong young women.
---
Ashley Sherbino
B.Sc. TWU, MPsy City University (Candidate)
Facilitator
Ashley's specific passion lies in the area of education, mentorship and personal growth. Along with her role as a SCREAM facilitator, Ashley also works in development for an organization that does humanitarian and educational projectors around the world.
---
Our Board
The Board of Courage for Youth includes professionals and counsellors who direct and maintain our established values and ensure accountability.
Board Members
---
Members at Large

Janice Noseworthy

Ashley Sherbino

Debra Walker

Candice Ziegler

Secretary / Treasurer

Alison Apps